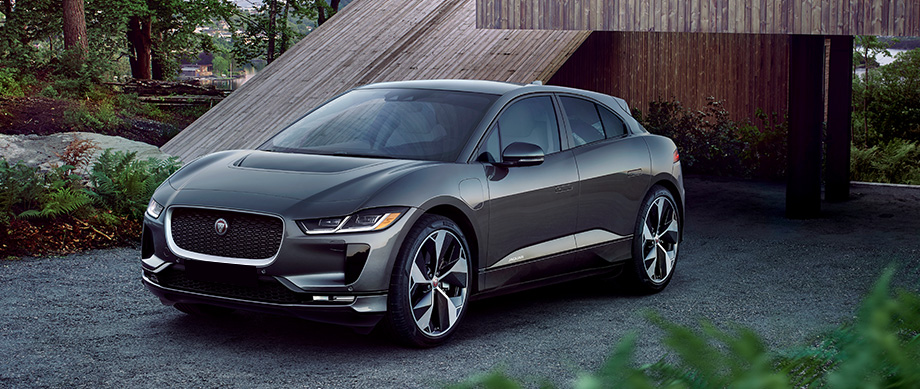 With planet earth's well-being now as crucial as ever, there has never been a better time to be driving the new 2019 Jaguar I-PACE.  Find yours today at Crown Jaguar, your preferred St. Petersburg area Car Dealership for luxury and performance Jaguar models.
Complete with the same class, elegance and style you've come to know and expect from a Jaguar, the 2019 Jaguar I-PACE is the first electric SUV delivered by a traditional car brand.
The new all-electric Jaguar I-PACE draws from a single battery and delivers approximately 240 miles of driving time per full charge. Imagine the future with a no-gas hall pass. Not only will your wallet appreciate you, but so, too, will Mother Nature.
Available in the S, SE and HSE trims, be among the first to steer the way to a cleaner environment without compromising size, space or that prestigious Jaguar badge recognized everywhere. Stop in to Crown Jaguar in St. Petersburg, FL today to experience the 2019 Jaguar I-PACE. Feel great in what you drive…and about what you drive.
The Stylish Crossover Shape Complements An Ideal, Spacious Interior
Without sacrificing space, in a 2019 Jaguar I-PACE you not only have plenty of room inside, but you'll also be providing Mother Nature room to grow. Its highly-aerodynamic design features an elongated wagon body with tall wheel wells and other sizeable details. Without losing the familiar front look of other Jaguar models like the Jaguar XE, the grille and front haunches feature dramatic, classy sculpted curves reminiscent of the Jaguar F-TYPE and D-TYPE.
With its forward-thinking use of structure and space, the interior will be a familiar one to Jaguar drivers. Excellent interior space is complemented by remarkably comfortable sport or performance seats in the front and rear. Equally impressive as the space inside the 2019 Jaguar I-PACE are the visuals. The conventional gauge display is accompanied by a 10-inch infotainment touchscreen.
With rear, fold-down seats, the Jaguar I-PACE offers generous space of up to 51-cubic feet, ideal for packing it in for those weekend getaways. Visit your local St. Petersburg Jaguar dealership today, Crown Jaguar, to view the unmistakable exterior and see-it-to-believe-it interior.
The 2019 Jaguar I-PACE Provides The Ultimate Charge
Worried about power and performance in an all-electric vehicle? Leave those concerns in the rear-view mirror with the Jaguar I-PACE's all-electric powertrain. Its single battery pack puts out 0-60 mph times and its torque-vectoring all-wheel-drive matches the power of other, non-electric upper-scale vehicles. In fact, it's estimated that the I-PACE can go from 0 mph to 60 mph in 4.5 seconds and offers up to 240 miles per full charge. For reference, anything over 200 miles is widely regarded as ideal with all-electric cars.
Twin electric motors offer up to 394-horsepower (294 kilowatts) and 512 lb.-ft., all drawn from a 90-kwh lithium battery pack. Acceleration is available in high or low regeneration, meaning the Jaguar I-PACE uses its motors to recapture energy reducing reliance on the brake pedal. As such, the Jaguar I-PACE also offers off-road ability. That includes powering through nearly 20 inches of water and up gravel roads and uneven inclines.
Harness the power. Stop in to Crown Jaguar in St. Petersburg to meet with one of our friendly and knowledgeable staff members. Feeling the power is believing in the power.

Experience The Savvy Technology In The 2019 Jaguar I-PACE
Feeling good in - and about - what you drive is worthy of some pretty remarkable perks. Among them inside the 2019 Jaguar I-PACE:
Touch Pro® Duo infotainment system offers two easy-to-use touchscreens for all the car's technologies.
4G Wi-Fi capability and other connectivity features come standard with the I-PACE, making for an easy connection to the world around you.
Smart settings that automatically adjust everything from the driver's seat-setting preferences to music playlists.
A remote app compatible with most Apple® and Android™ smartphones keeps you updated with such information as available range, charging status, charge rate and plug state.
The I-PACE also replaces Jaguar rotary drive selector with silver buttons for drive, neutral and reverse.
It's exhilarating to look at, but even more thrilling to drive. Stop by Crown Jaguar today to learn more about how the I-PACE keeps you in control and connected to the world you're helping to preserve just by virtue of what you will be driving.
The 2019 Jaguar I-PACE Is Safer For The Planet…And For You
As with any Jaguar, the highest premium is found in its safety measures. With the Jaguar I-PACE, count on:
Inherent to any electric vehicle, its construction makes for a deck of well-reinforced batteries under its floor.
Rearview camera.
Parking sensors.
Stability is enhanced by all-wheel drive and torque-vectoring.
All models come equipped with low-speed automatic emergency braking.
Active lane control.
LED lighting.
A comprehensive system has six airbags strategically placed throughout the vehicle, protecting you and your passengers from all sides.
Safer for you, safer for the planet. Head off into the sunset today in a 2019 Jaguar I-PACE.

Treat Yourself - And Mother Nature - To The Wealth Of Goodness In The 2019 Jaguar I-PACE
Luxury has taken on new meaning with the 2019 Jaguar I-PACE. Whether it's your first experience with an all-electric vehicle or you're a returning customer to the eco-friendly way of driving, come in to Crown Jaguar today. Be one of the first to turn heads in an elegant, spacious vehicle. As the first electric SUV delivered by a traditional car brand, take a breath of fresh air and become a part of history. Plus, unlike competitors like the Tesla Model X and S, the 2019 Jaguar I-PACE can be yours for much less than you thought possible.
The Better Way To Buy The 2019 Jaguar I-PACE
Whether you're ready to schedule a test drive, explore your financing options, or continue shopping for other luxury and performance Jaguar models in the area, count on Crown Jaguar for a great shopping experience. Browse our extensive inventory of new 2018 Jaguar and new 2019 models available at our everyday low prices.
Visit us today or give us a call to discover why we are among the top car dealers in Florida delivering the Better Way To Buy. Crown Jaguar proudly serves drivers from St. Petersburg, Palm Harbor and the surrounding areas.